WHAT WE BELIEVE
The Bible
The sole basis of our belief is the Bible, composed of the sixty-six books of the Old and New Testament. We believe that scripture in its entirety originated with God, and that it was given through the instrumentality of chosen men. Scripture speaks with the authority of God and reflects the backgrounds, styles and vocabularies of the human authors at the same time. We hold that the scriptures are infallible and inerrant in the original manuscripts. They are the unique, full and final authority on all matters of faith and practice, and there are no other writings similarly inspired by God.
God
We believe that there is one true Holy God, eternally existing in three persons - Father, Son and Holy Spirit - each of whom possess equally all the attributes of deity and the characteristic of personality. In the beginning God created, out of nothing, the world and all the things therein, thus manifesting the glory of His power, wisdom and goodness. By His sovereign power He continues to sustain His creation. By His providence He is operating throughout history to fulfill His redemptive purposes.
Jesus Christ
Jesus Christ is the eternal second person in the Trinity who was united forever with a true human nature by a miraculous conception and virgin birth. He lived a life of perfect obedience to the Father and voluntarily atoned for the sins of all by dying on the cross as their substitute, thus satisfying divine justice and accomplishing salvation for all who trust Him alone. He rose from the dead in the same body, though now glorified, in which He lived and died. He ascended into heaven and sat down at the right hand of the Father, where He, the only mediator between God and man, continually makes intercession for His own. He shall come again to Earth, personally and visibly, to consummate history and the eternal plan of God.
The Holy Spirit
Essential to a genuine saving relationship with Jesus Christ is a life of holiness and obedience, attained by believers as they submit to the Holy Spirit, the third person of the Trinity. He was sent into the world by the Father and the Son to apply to mankind the saving work of Christ. He enlightens the minds of sinners, awakens in them recognition of the need for a Savior, and regenerates them. At the point of salvation, He permanently indwells every believer to become the source of assurance, strength and wisdom, and uniquely endows each believer with gifts for the building up of the body. The Holy Spirit guides believers into understanding and applying the Scripture. His power and control are appropriated by faith, making it possible for the believer to lead a life of Christ-like character and to bear fruit to the glory of the Father.
Salvation
The central purpose of God's revelation in scripture is to call people into fellowship with Himself. Originally created to have fellowship with God, man defied God, choosing to go his own independent way, and was alienated from God and suffered to corruption of his nature, rendering him unable to please God. The fall took place at the beginning of human history and all individuals suffer the consequences and are thus in need of the saving grace of God. The salvation of mankind is wholly a work of God's free grace not the result in whole or in part of human works or goodness and must be personally appropriated by repentance of faith. When God has begun a saving work in the heart of any person, He gives assurance in His Word that He will continue performing it until the day of its full consummation.
Human Destiny
Death seals the eternal destiny of each person. For all mankind, there will be a resurrection of the body into the spiritual world and a judgment that will determine the fate of each individual. Unbelievers will be separated from God into condemnation. God's judgment will reveal His justice in consigning them to perpetuate in eternal retribution by their rejection of God. Believers will be received into eternal communion with God and will be rewarded for works done in this life.
Faith and Practice
Scripture is the final authority in all matters of faith and practice. This church recognizes that it cannot bind the conscience of individual members in areas where scripture is silent. Rather, each believer is to be led in those areas by the Lord, to whom he or she alone is ultimately responsible.
The Church
The benefit of union with Jesus Christ is that all believers become members of His body, the Church. There is one true Church universally comprised of all those who acknowledge Jesus Christ as Savior and Lord. The Scripture commands believers to gather together to devote themselves to worship, prayer, teaching of the Word, observance of baptism, communion, fellowship, service to the body through development and use of talents and gifts, and outreach to the world as the sacramentarian ordinances established by Jesus Christ. Wherever God's people meet regularly in obedience to this command, there is the local expression of the Church. Under the watchful care of elders and other supportive leadership, its members are to work together in love and unity, intent on the ultimate purpose of glorifying Christ.
Marriage and Family
We believe God created marriage to uphold and sustain His creation. The union between one man and one woman is the God ordained institution which God recognizes, sanctions and blesses. Therefore we do not condone or recognize same sex relationships as God ordained or God sanctioned. As the Bible is our guide to our faith and our practice, we do not uphold or sanction any practice that contradicts the teachings and instructions of the Word of God. This includes any kind of pornography or illicit sexual relationships, addictions, or deception; such conduct is contrary to the direct teachings of the Bible and many are a contributing factor to the demise and destruction of a marriage and the family.
OUR THEME
Connect - H.U.G.G. - Serve
Connect
Every member of Ecclesia is expected to CONNECT with God through regular worship and attendance and CONNECT with Ecclesia through "My Connection" process.
H.U.G.G. (Home Unity Growth Groups)
Every member of Ecclesia is expected to connect and grow in the Word of God through regular involvement in a H.U.G.G.
Serve
Every member of Ecclesia is expected to SERVE in at least one ministry in Ecclesia using thier spiritual gifts and talents.
OUR MISSION
(Matthew 28:18-20)
"Picking Up The Broken Pieces In The Lives Of People"
by:
- Evangelizing the lost
- Disciplining the saved
OUR VISION
(Matthew 28:18-20)
To Create Authentic Christian Implies:
- Fulfilling the Great Commission
- Abiding in the Word
- Walking in the power of the Holy Spirit
OUR CORE VALUES
Character (God's)
Individuals who reflect the Character of God through integrity and by being dependable. Integrity means honest and trustworthy. It should be a given in a Christian environment that individuals would be honest. Dependable means faithful, to do what you have volunteered.
Competency (Spiritual Gifts)
Individuals who operate in their Spiritual Gifts and develop their individual skills; those who do their task with excellence. Someone who studies to show themselves approved as scripture teaches, seeking to learn and increase in knowledge to best serve the congregation and the Kingdom we are called to build.
Chemistry (Like Each Other)
Individuals who blend in with the spirit and personality of our church family; individuals who like being around people and creating relationships and working together as a team to fulfill the Mission and Vision of ECF. Those who have taken the Myers-Briggs Personality test and understand how to work with their fellow believers.
Calling (Lifestyle)
Individuals who understand God's calling to live for Him. This calling links us together, recognizing that we are also called together to build what God has given us, that it may Glorify Him, Bless those whom we serve and benefit us and our families. Like the Children of Israel we understand that our lifestyles effect one another. (Joshua 7)
Commitment (Obedience)
Individuals who are committed to the fulfillment of our Mission and Vision, and the display of our core values (5 C's), through their spiritual gifts and abilities and walk in obedience to Christ in following His commands of the Great Commission, in walking holy in their personal lives and growing consistently in their passion for others by seeking to serve and not just be served.
Ecclesia Christian Fellowship
began in February 1991 as a Bible study group. Our study centered on biblical events and the "End Times." Our group began to follow God's mandate for this ministry to do all things "decently and in order" (1 Corinthians 14:40). In March, we began to meet with our Board of Directors on Wednesday nights at the "SMART" offices in Rancho Cucamonga, California. We applied for our Corporate Non-profit Tax exempt status with the State of California and the Federal Government. During this time, we continued to meet as a Bible study group on Sunday mornings. Our core group began with approximately 15 people and grew to an average attendance of 25-30 each week.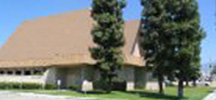 On May 13, 1991, we accomplished our goal and received our Non-profit Tax exempt status. At that time, we began calling ourselves a church and started having official worship services. Prior to our tax exempt status we received no offerings. We asked those of our group to contribute to help pay for our application for tax exemption and committed to pay them back when we were approved. After approval, all except one asked that their contributions be converted to tithes. The one we reimbursed in full.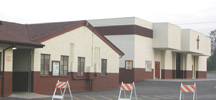 We continued to hold worship services at the "SMART" facility until the first Sunday in August. On August 4, 1991, we moved to the 16th Street Seventh Day Adventist Church, where we experienced unbelievable growth and blessings. The first Sunday's attendance was over 200 people. God continued to unveil His vision to us!
On September 5, 1993, God moved in a miraculous way and provided for us our own church facility. God used a small group of 181 families to accomplish what man thought was impossible: 3.6 acres of land, 1000-seat sanctuary, office space, classroom space, a fellowship hall with full commercial kitchen, nursery, youth house, and more.
Soon after we moved to Date Street, God moved again to provide us with tables, chairs, office furniture and equipment. A wholesale computer dealer donated five computers that began our computer lab. One of our members learned that General Dynamics in Pomona was closing and through her contacts we received two flat-bed trucks full of needed office supplies and equipment. Through our prayer walks, God gave us favor in the Date Street Community and our congregation continued to grow.
Ecclesia is unique and unusual in its "Ministry Vision." This history represents the tangible result of what GOD has done since we began this walk of faith. Those in ministry here realize they are involved in a ministry that has been around for only twenty years. Yet, we believe that we "have not seen anything, yet!"
God has done great things for us! God keeps doing great things for us!! Yet, God has great things in store for us.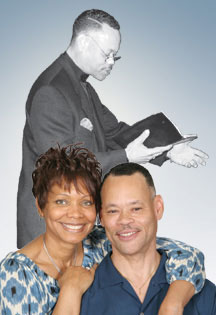 Dr. Joshua Beckley
Senior Pastor
Six months after becoming a Christian at the age of 16, Joshua Beckley began preaching. He accepted his call to preach at 18 years of age, he later became licensed in 1976, and began to follow God's will for his life. Leaving home in October 1977 for California, he left by faith, not knowing where he would stay or whom he would meet. He left because God had called him. Pastor Beckley was ordained in 1980. His education extends to a Doctorate in Ministry from The Centre for the Study of Biblical Research, a Masters in Divinity from the International School of Theology and a B.A. in Music Education. Before attending Golden Gate Theological Seminary, Pastor Beckley spent many years and many hours in self-education, learning the Greek and Hebrew languages, the disciplines of Hermeneutics, Homiletics and Exegeses. Through his dedication he has developed an extensive library of Biblical resources.
Pastor Beckley has served in full-time Christian work since 1977. He has worked with Dr. E. V. Hill at the World Christian Training Center as the Assistant Director of Activities in charge of High School Ministries. In less than one year he had Bible studies at eight of the inner city high school campuses which included Dorsey, Locke, Manual Arts, Los Angeles High, Crenshaw and Morningside.
In 1979 he came on staff at then First Baptist Church of Fontana, which is now Loveland Church. He served there for twelve years as Youth Pastor, Elder, National Youth Director for Harambee, Pastor of Visitation, Executive Pastor of Discipleship Ministries, and Executive Pastor of Counseling. Over the years he wrote extensive articles for youth magazines such as "Group." Pastor Beckley also wrote the first step booklet of the Three Steps to Christian Maturity Discipleship program at Loveland, and taught Step One, Wednesday night Bible Study and periodically preached on Sundays.
In 1991, the Lord gave Pastor Beckley a vision of "Picking up the Broken Pieces in the lives of Believers" from which our current ministry was born. Pastor Beckley is presently the senior pastor of Ecclesia Christian Fellowship and has been the pastor since it's beginning. In his current ministry as in past ministries, Pastor Beckley is concerned about the well being of people from all walks of life. He dedicates his life to spreading the Gospel of Christ to all he encounters; he encourages his membership to live a life which exemplifies Christ and shows forth the love which only comes from Christ.
Pastor Beckley has received numerous awards and recognitions for his service to the Lord Jesus Christ. His present extra-ministry responsibilities are: Co-founder of the Inland Empire Concerned African American Churches (I.E.C.A.A.C.), Member of the Board of Trustees for Christian Community College in Redlands; and Member of the Alliance for Education; Member of the Century Club of San Bernardino City Schools, Board Member of Community Action Partnership; also a Member of several other Ad-hoc Committees that are geared towards changing lives and conditions for our people and our communities.
However, Pastor Beckley says his greatest accomplishment since he met Christ, is his marriage to Lynda Carol and his three wonderful children; Anton, Aliea and Anell, and his grandchildren Cameron, Jayden, David, Dominic, Christian, Lailani, Calise, Alayna, Jalen & Eva.

Lynda Beckley
Executive Director of Finance and Administration
Lynda Beckley is the wife of Joshua Beckley, the pastor of Ecclesia Christian Fellowship. Lynda is not only involved in the welfare and maintenance of her family's spiritual well being,but is dedicated to teaching and mentoring young women on the principles of Godly Living and Holiness, Personal Devotion, as well as Financial Stewardship and the development of a ten week course entitled Common Cents, which she teaches at Ecclesia. CommonCents teaches principles and techniques of biblical financial management and stewardship.
With a Master's degree in Accounting, she has worked in banking and finance for several years and is currently named the Executive Director of Finance for Ecclesia. For the past 6 years, she has also served as Fiscal Manager of Priscilla's Helping Hands, Ecclesia's Community Based nonprofit Organization.
Lynda serves as advisor of the Hearts in Focus Women's Ministry at Ecclesia, is involved in the Couples Ministry, and when her schedule permits, she participates in marital counseling with her husband.
Lynda's primary passion for ministry is to see Christians, particularly women, experience the joy and power of living consistent victorious lives for Christ. She is often heard asking the question: who will stand for Jesus?
Joseph Branch
Executive Director of Edification
Joseph Branch is married to his loving wife Mechelle the source of his emotional stability and support. Joseph, Mechelle, and her daughter Abriana have been active members of Ecclesia Christian Fellowship since 2011. Joseph has two adult daughters--Nina who works as a CNA in Las Vegas and Gayle who is an Army Sgt. stationed at Ft Campbell Kentucky. Joseph accepted Jesus Christ as his LORD and Savior in 1989 at St. Timothy Community Church in San Bernardino under the spiritual guidance of the venerable Dr. Johnny Brown. Joseph's education and career background consists of a BA Degree in Criminology and a Masters Degree in Homeland Security. As a military veteran, Joseph was an Army Staff Sargent during the Iraqi Freedom War. Joseph worked 27 years for CA Dept of Corrections before retiring as a Parole Agent in 2011. He graduated from the ECF My Connection Biblical Bases in the Fall of 2012. Subsequently, Joseph has actively served and utilized his Spiritual Gift in teaching Baptism, all of the Biblical Base classes, facilitated HUGGS, and Sermon Notes. Joseph recently served as Director of the Men's Ministry, and continues to serve as player-coach on the Ecclesia Mighty Men's Ministry softball team.

Pastor Harvie Haynes
Executive Director of Facilities and Victorville Campus
Harvie Haynes accepted Jesus Christ at the age of 20 at St. John Missionary Baptist Church in Oakland. Under Dr. C.J. Anderson he learned the Word of God and gained a wide variety of service-related ministry experiences. Harvie relocated to Southern California and continued to grow at Park Windsor Baptist Church under Dr. Bill Thurmond. When Harvie, wife and 5 sons moved from Long Beach to Moreno Valley, they united with St. John Baptist Church in Riverside. Harvie accepted the call to preach in 1992 and was ordained in 1997. After 18 years of effective leadership at St. John, Harvie was hired as Facility Manager at Ecclesia. In 2010, Harvie graduated from Biola University with a BS in Organizational Leadership. His tutelage under Dr. Joshua Beckley, his education, his maintenance and construction experience, his heart for people, and his simple approach to preaching and teaching helped Ecclesia grow to new heights. In 2013, Dr. Beckley commissioned Harvie as site pastor of Ecclesia's first satellite church. Harvie and Josonjia are creating authentic Christians in Ecclesia-Victorville. His focus in ministry is love godly, live holy, and lead wisely.

Minister Brian Williams
Executive Director of Family Life and Outreach
Minister Brian Williams and his wife of 15 years, Staci, have two daughters, one foster child, two granddaughters, and one grandson. They are both active leaders at Ecclesia Christian Fellowship.
Brian accepted Jesus Christ as his personal Lord and Savior in August, 1983 at First Apostolic Church of Inglewood, CA under the pastoral-ship of Dr. Wynn Davis. In 1985, after serving several years as Junior Deacon, Brian accepted his calling to preach the gospel.
In January 1999, Brian began using his gifts at Ecclesia Christian Fellowship where he served as a Deacon, and later joined the ministerial team. He was licensed to preach the gospel in 2003 under the leadership of Ecclesia's Senior Pastor, Dr. Joshua Beckley and in February 2008 was ordained a minister of the Gospel.
In 2010, Brian graduated from Biola University with a BS in Organizational Leadership, and received his Masters Degree in Christian Education from Talbot School of Theology.
Minister Brian Williams facilitates the children and youth ministries which include developing, supervising and evaluating the functioning of the Junior High, Senior High, Young Adult, and Scholarship ministries at Ecclesia Christian Fellowship and the surrounding community.

Michelle Allen
Finance Administrative Assistant - 2013
Responsibilites: Responsible for a full range of bookkeeping duties under the direction of the Executive Finance Director.
Favorite Scripture: "The Lord is my light and salvation; whom shall I fear? The Lord is the strength of my life, of whom shall I be afraid?" (Psalm 27:1)

Caylen Gilmore
Graphic Design Assistant - 2016
Responsibilites: assist M.A.P. in graphic design and production
Favorite Scripture: "Now may the Lord of peace himself give you peace at all times and in every way. The Lord be with all of you." (2 Thessalonians 3:16)
Ebenezer "Eb" Jesutimi
Ministry of Advertising and Publications Art Director - 2005
Responsibilites: graphic and web design, and photography.
Favorite Scripture: "Cast all your anxiety on Him because He cares for you" (1 Peter 5:7)

Sharon Johnson
Office Manager - 2003
Responsibilites: Staff supervision and assistant to Pastor Beckley.
Favorite Scripture: "For I am convinced that neither death nor life, neither angels nor demons, neither the present nor the future, nor any powers, neither height nor depth, nor anything else in all creation, will be able to separate us from the love of God that is in Christ Jesus our Lord" (Romans 8:38-39)

Danny "Jazz" Nixon
Worship Arts Director - 2016
Responsibilites:
Favorite Scripture: "For I know the plans I have for you," declares the Lord, "plans to prosper you and not to harm you, plans to give you hope and a future. " (Jeremiah 29:11)

Paul Ross
Maintenance Technician - 2014
Responsibilites: Maintenance projects and repairs.
Favorite Scripture: "I can do all this through him who gives me strength" (Philippians 4:13)

Nichole Scales
Administrative Support/Marketing Coordinator - 2014
Providing support for office Manager and Administrative Department as well as developing the Marketing Strategy Team
Favorite scripture: "Trust in the LORD with all your heart and lean not on your own understanding;in all your ways submit to Him, and he will make your paths straight." (Proverbs 3:5,6)

Marla Stewart
Edification Administrative Assistant - 2006
Responsibilites: Assistant to Joseph Branch
Favorite scripture: "Trust in the LORD with all your heart and lean not on your own understanding;in all your ways submit to Him, and he will make your paths straight." (Proverbs 3:5,6)

Alisa Walker
Administrative Receptionist - 2013
Responsibilites: Assists the Facilities and Office Manager, and all who enter the Admin Office.
Favorite Scripture: "I can do all things through Christ who strengthens me." (Philippians 4:13)